What is Toenail Restoration?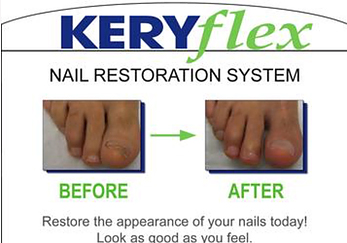 Ideal candidates for Keryflex experience some of the following conditions and symptoms:
Nail shape changes due to injury
Spoon shaped nails
Brittle and splitting nails
Split nails
Horizontal ridges
Discolored nails
The KeryFlex™ toenail restoration is the perfect solution for those who have suffered with unsightly toenails due to tonail fungus infections, distance running or injuries to the nails!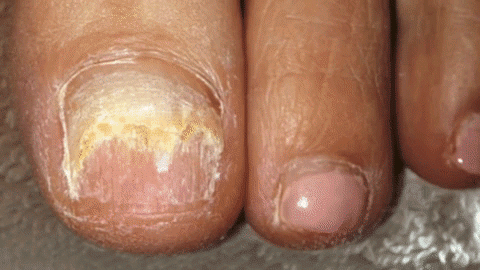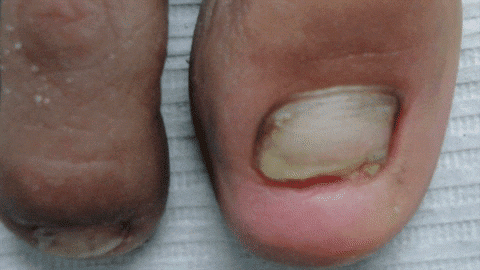 What is Keryflex™?
KeryFlex™ is a nail restoration system that uses polymer resins and special activators to create a durable, yet flexible artificial nail when exposed to a certain frequency of ultraviolet light.
The KeryFlex™ toenail restoration system developed by Pod-ADvance, Inc. is a composite patented resin gel, which is insoluble to water. It seals the prepared the nail bed, making it more resistant to recurrent infections.
It is available in three colors: pastel, clear and natural, and works by creating a flexible, nonporous artificial nail, allowing the remaining natural nail to re-grow! KeryFlex toenail restoration provides an immediate cosmetic solution to those suffering with toenail infections or malformations. It looks and feels completely natural, while delivering a variety of hues to match your natural nail bed. It is unaffected by acetone, nail polish, and detergents. The Keryflex™ System doesn't irritate the skin, as it only sticks to the callous cells of the nail or the papillary roots. It will not bond to skin, allowing a natural edge to be fabricated.
It allows patients to use antimicrobial solutions to treat fungal infection, while providing cosmetically pleasing nails during oral or topical antifungal therapy or after pinpoint laser therapy. The KeryFlex™ nail is durable, flexible and moves with the foot.
Ideal candidates for toenail restoration should have mild to moderate impairment however KeryFlex™ has been used to replace toenails that have been removed or fallen off with good results, but not as long lasting as for those who have at least 30% of their nail left.
Exclusion criteria are:
In-grown toe nails
Symptomatic peripheral vascular disease
Arterial insufficiency
Symptomatic peripheral diabetic neuroapthy
Suspiecious pigmented lesions on natural nail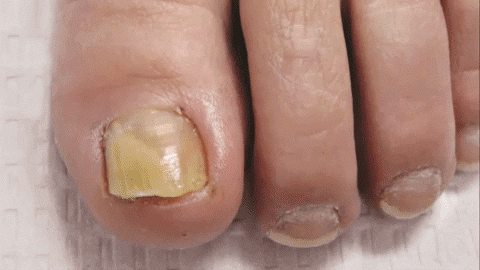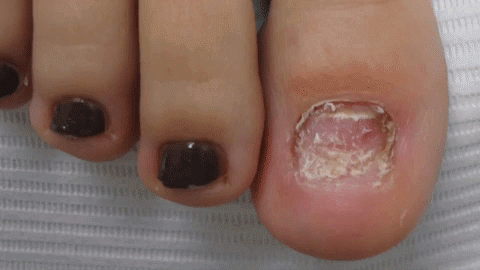 Frequently Asked Questions:
How long does it take to apply KeryFlex™?
On average, in experienced hands, a technician can complete the application of KeryFlex™ Bond, KeryFlex™ Resin, and KeryFlex™ Seal, with curing time included, in about 30 minutes per toe.
After KeryFlex™ is applied, how soon must I return for another application?
The interval between applications will vary according to the individual, but in general, the time between applications is three to eight weeks.
What if I want to have a KeryFlex™ nail removed?
If you want to have the nail removed, the technician can dremel the artificial nail until it is no longer attached to the natural nail.
What are the components of the KeryFlex™ Nail Restoration System?
The components consist of the following:
KeryFlex™ Resin: Urethane acrylate oligomer, aliphatic polyesterurethane acrylate, HPMA, polyesterurethane acrylate, silica, piroctone olamine, BHT, p-hydroxyanisole, hydroquinone
KeryFlex™ Bond: Alcohol, HEMA, aqua (Water), acylphosphine, pentaerythrityl tetra-di-t-butyl hydroxyhydrocinnamate, piroctone olamine, BHT, p-hydroxyanisole
KeryFlex™ Sealant: DI-HEMA Trimethylhexyl dicarbamate, polyetherpolyol tetraacrylate, polyesterurethane acrylate, silica, acylphosphine, benzoyl isopropanol, BHT, p-hydroxyanisole
Is KeryFlex™ a treatment for onychomycosis and related nail disorders?
KeryFlex™ is NOT a treatment for onychomycosis or related nail disorders. KeryFlex™ is designed for use as a cosmetic to make a patient's nail appear more attractive.
Can I use nail polish and nail polish remover on a KeryFlex™ nail?
Yes, you can use nail polish and nail polish remover on a KeryFlex™ nail.